This week we're excited to introduce you to our new LibraryCall Farsi Content Developer, Mariam Jalalifard.
Mariam Jalalifard is an experienced, dedicated, and highly motivated storyteller, social activist, library supervisor, bilingual ESL lecturer, librarian, Farsi editor, and instructor with more than 12 years of experience. A certified English/Farsi translator, she has a high level of familiarity and cultural competence when it comes to reaching Farsi/Persian/Dari speakers. Mariam holds an MLIS degree and a second master's degree in Language, Literature, and Linguistics. She is based in Northern California where she also works as a library supervisor at Sacramento Public Library.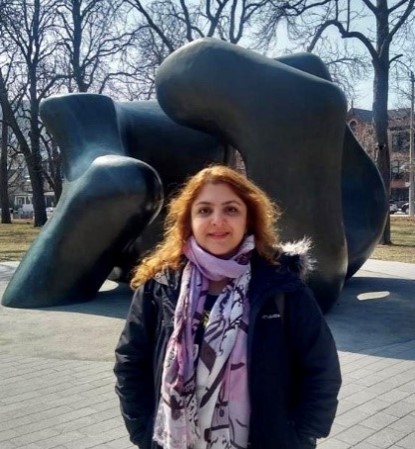 Q& A with Mariam
What is your favorite story from your youth?
I am passionate when it comes to books and stories. Spending my childhood in Iran, I was lucky to have favorite children's books in different languages. These experiences helped me develop a passion for reading that I hope never leaves, and they also made me realize how vital it is for children to access books and libraries. When I was younger, I read and re-read C.S. Lewis's The Chronicles of Narnia (especially The Magician's Nephew and The Lion, the Witch, and the Wardrobe).
What are you looking forward to in your work with LibraryCall?
LibraryCall serves everyone in the community, and I'm excited to be the voice of Farsi speakers in our community. I believe every child deserves a story of their very own. I want my own stories to break down the barriers between our children and the world. This is what motivates me as an interpreter, editor, and writer. I feel stories belong to all of us, and every child should be able to see themselves in the books they read. I want children who look like me to know they deserve to be the main character of any story.
Share something interesting about yourself!
I love books, enjoy drinking coffee, and working with people, especially kids and teens.
Welcome, Mariam! We can't wait to share your Farsi translations and original English/Farsi stories with everyone!
In Other News….
This week we're also saying goodbye to Outreach and Accounts Manager, Amanda Jacobs Foust. Amanda is leaving LibraryCall to pursue other exciting opportunities. We're grateful for all she contributed. She was the rock star of conference planning and relationship development! We wish you all the best, Amanda!
In the meantime, the rest of the team will be fielding support calls, so you can continue to email us at team@librarycall.com. And if you know anyone looking for a sales gig, let us know!
Synopsis
This week we're excited to introduce you to our new LibraryCall Farsi Content Developer, Mariam Jalalifard.