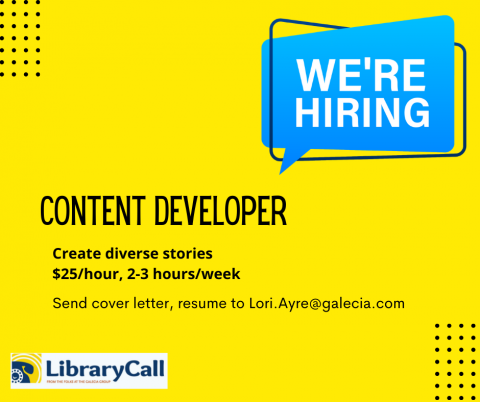 The Galecia Group is seeking a Content Developer to adapt, write, record, and curate stories for our Librarycall Dial-A-Story service. LibraryCall helps libraries bridge the digital divide with cost-effective Dial-A-Story and other phone-based services. We are looking for two contractors to produce stories that reflect the diverse experiences of children throughout the country.
The LibraryCall Content Developer will be responsible for:
Developing 2 diverse stories for youth (ages 2-12) each month. This may involve adapting traditional or public domain stories, writing original stories, or working with publishers of diverse books to secure licensing for modern stories.

Producing and editing audio recordings of stories
Requirements:
Strong creative writing skills with the ability to write appealing and inclusive content for children

Experience reading aloud to children, storytelling, and/or acting

Familiarity with basic concepts of US copyright law and the public domain

Ability to effectively communicate via email, phone, online chat, and video-conference

Strong cultural competency related to one or more diverse communities, including (but not limited to), BIPOC, LGBTQIA, people with disabilities, and ethnic, linguistic, cultural, and religious minorities. Competency would be demonstrated by knowledge of the traditions, values, and customs of a community.
Fluency in written and spoken Chinese, Tagalog, Vietnamese, or Spanish is a plus.
Working environment:
This will be a contractor (1099) position, working remotely for an estimated 2-3 hours per week

Meetings can be scheduled flexibly to accommodate any US time zone

Contractor will be responsible for providing their own computer, telephone, and Internet access

The Galecia Group is an equal opportunity employer
Compensation: 25.00 hourly
To submit your application, please send a cover letter and resume to Lori Bowen Ayre, Principal of the Galecia Group at Lori.Ayre@galecia.com.