Today marks the first day of National Hispanic Heritage Month. Throughout the year, LibraryCall celebrates and acknowledges the many contributions and cultures of Hispanic and Latino/Latinx Americans that have shaped our nation.
National Hispanic Heritage Month takes place every year between September 15 and October 15. We were curious about why the holiday spans two months, so we looked into it. We learned that President Lyndon Johnson first introduced National Hispanic Heritage week in 1968. The week of Sep. 15 was selected because it coincides with dates in which many countries in Latin America-- México, Costa Rica, El Salvador, Guatemala, Nicaragua, and Chile– gained independence from Spain. When the holiday was extended to a 30-day celebration in 1989, the mid-month span was chosen to encompass el Día de la Raza on October 12. Día de la Raza, which is a national holiday in many Spanish-speaking countries, recognizes the cultural fusion of indigenous America and Spanish heritage, as well as pride in cultural diversity.
Looking for a story recording to mark the occasion in your community? We recommend Am I Blue or Am I Green? / Azul o verde. ¿Cuál soy yo? by author Beatrice Zamora.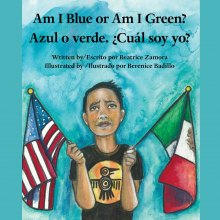 This story explores how the flags of México and the United States can serve as a metaphor for the resilience and beauty of a bicultural life. We have three versions of the story available to you: Spanish, English, and bilingual Spanish/English. ¡Esperamos que lo disfruten! / We hope you enjoy it!
New Feature– Customizable Printables
Our Story Printables (previously called Story Sheets) have been redesigned as customizable PDF documents. You are now able to add your library logo, dial-a-story phone number, and service name to the story document before printing it. This feature allows you to use the printables as outreach tools and get good stories into the hands of more families.
We currently have 17 Story Printables available in the Storytime Commons, but we invite our customers to request new printables at any time. We're happy to create them on-demand. Simply let us know what title(s) you would like by sending me an email or contacting us here: https://librarycall.com/contact
Synopsis
We recognize National Hispanic Heritage Month, recommend a thematic story recording, and share the news that LibraryCall's story printables are now customizable.