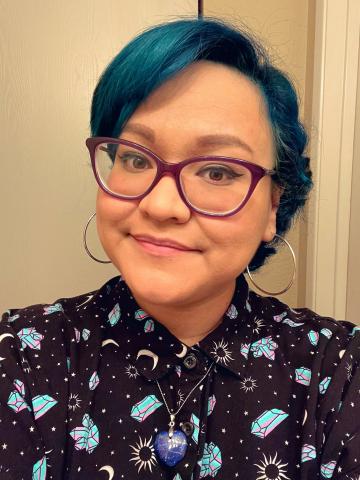 Have you scheduled Spanish recordings from the Storytime Commons? If so, you're probably familiar with the voice of our Spanish language reader, Adilene Estrada-Huerta. We thought you might enjoy learning a bit more about her background.
Adilene is an experienced librarian, trainer, and storyteller based out of Sacramento, California. She received ALA's "I Love My Librarian" award this year for her bilingual outreach work at Sacramento Public Library, and she recently served as the President of the Sacramento area REFORMA chapter. She also teaches professional development courses for Infopeople. We're so lucky that she's able to squeeze in some storytelling for LibraryCall!
Adilene Trivia
She loves books with good world-building, including fantasy and supernatural genres.
She has an adorable Corgi named Shakespeare.
Her favorite story from the Commons is El nino que queria mas queso (The Boy Who Wanted More Cheese).
New Recordings
Looking for some new Spanish or adult titles to schedule? Check out our newest additions to the Storytime Commons:
Synopsis
Learn more about the voice behind LibraryCall's Spanish recordings.