This week we're bringing you a social media post you can share with your community, a few new stories, and an invitation to join an upcoming online workshop.
Dial-a-Story Improves Literacy. Spread the Word!
As library professionals, we know that programs like dial-a-story are beneficial for children. Listening to stories enhances pre-reading skills by boosting children's awareness of sounds, speech patterns, narrative skills, and inferencing skills (being able to guess what will happen next). Listening to diverse stories and storytellers is also a great way to expose children to cultures and experiences that broaden their understanding of the world.
To help you spread the word about the benefits of listening to stories, we created a simple infographic that you can share with your community on social media.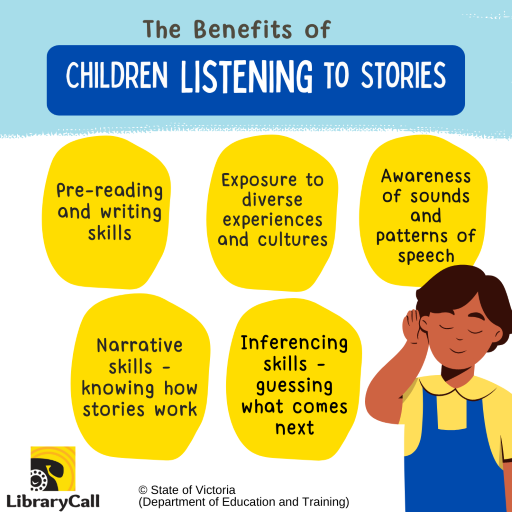 Suggested copy for your accompanying social media post: Did you know that listening to stories is a great way to enhance your children's literacy skills? At [library name], storytime is just a phone call away! Call [phone number] to listen to the library's weekly Dial-a-Story recording. Stories are free and available all day, every day.
New to the Storytime Commons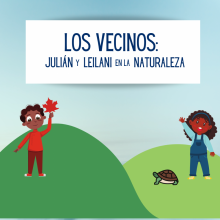 Los vecinos: Julián y Leilani en la naturaleza: this delightful story by Lauren Kratz Prushko is full of preschool themes: sensory exploration, sharing, and friendship. This is a Spanish version of The Neighbors: Julian and Leilani Out in Nature.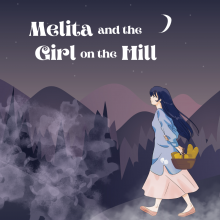 Melita and the Girl on the Hill: Melita, a girl who loves the sun, meets a mysterious girl on the foggy outskirts of her village. This tender LGBTQ+ story for young people, written and read by Anna Suarez, explores themes like acceptance, openness, and curiosity.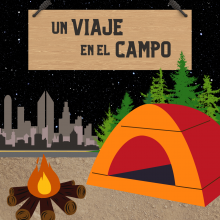 Un viaje en el campo; Three friends from the city go camping for the first time. Together they learn to pitch a tent, hike in the woods, and make s'mores under the stars. This Spanish version of A Camping Trip was written by Lauren Kratz Prushko, translated by Stephaney Cortes Alvarado, and narrated by Adilene Estrada-Huerta. It's a great choice for libraries using iRead's Read Beyond the Beaten Path theme.
How to Make Your Phone Recordings Sounds Great
You may have noticed that we've also been enhancing some of our older stories with higher-quality recordings and edits. Our content team has learned a lot about producing audio stories over the last year and a half, and we'd love to share what we know with you.
Join us for a free one-hour workshop on Thursday, Aug. 4 at 11:00 AM PDT– How to Make Your Phone Recordings Sound Great. In this workshop, we will share tricks to help you create cleaner, more professional audio recordings using your smartphone so your stories sound better than ever.
Registration link: https://librarycall.com/event/how-make-your-phone-recordings-sound-great/thu-08042022-1100-am-pdt
Synopsis
A social media post you can share with your community, a few new stories, and an invitation to join an upcoming online workshop.