If you're looking to share one last Black History Month story with your community before the end of the month, check out our newly published recording by Lauren Kratz Prushko– Inventor Garrett Morgan: Champion of Safety! Garrett Morgan's most famous inventions included the gas mask and three-way traffic lights, two technologies that have had an enormous influence on human health and safety.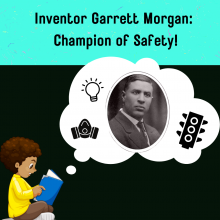 Other New Stories:
Little Bunny Foo-Foo: a funny 10-minute story based on the famous children's song. Little Bunny Foo-Foo is always getting into mischief. When he has trouble managing his temper, his grandma disguises herself as a fairy in order to teach him a lesson.
El cuento de Pedrito el Conejo: a Spanish language adaptation of Beatrix Potter's The Tale of Peter Rabbit– just in time for spring!
Winnie-the-Pooh and Eeyore's Lost Tail: in our second recording from A.A. Milne's Winnie-the-Pooh collection, Pooh Bear is determined to help his donkey friend Eeyore find his lost tail.
Upcoming Events
We invite you to join us for an upcoming Dial-A-Story Chat event. In these casual forums, we will discuss ideas for optimizing your Dial-A-Story service to connect with as many community members as possible. Maybe you need advice about navigating the Storytime Commons or finding stories in languages other than English. Perhaps you'd like tips on recording your stories without that weird grainy sound in the background. Or maybe you have some great stories or ideas to share with your colleagues. Bring all your questions, tips, and ideas! A friendly LibraryCall Content Developer will facilitate.
Dial-A-Story Chat: Feedback, Solutions, Sharing
March 11, 2022 at 10:00 AM PST/ 11:00 MST/ 12:00 CST/ 1:00 EST. Click here to register
April 8, 2022 at 10:00 AM PST/ 11:00 MST/ 12:00 CST/ 1:00 EST. Click here to register
Synopsis
Sharing information about free upcoming events for LibraryCall clients and new stories for Black History Month.